Overview
Sustainable Fuels Initiative (SFI) is aimed at improving technology and reducing barriers to achieve widespread commercial production and utilization of sustainable, low-carbon fuels in California and beyond. SFI takes a multi-disciplinary, applied-research focused approach and collaborates with public and private stakeholders to develop, demonstrate, and deploy sustainable energy technologies.
Focus Areas: 
Sustainable Fuels Production Technologies
SFI is actively investigating thermochemical, biological, and power-to-gas pathways for the production on sustainable fuels, with particular emphasis on Renewable Natural Gas (RNG) and hydrogen. Besides production technologies, analysis also focuses on resource availability, collection and transportation challenges, economics, and commercialization potential.
Clean Energy Deployment Pathways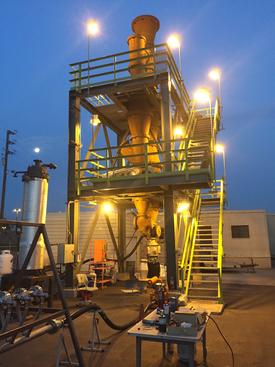 SFI's research focuses on technological and policy barriers to deploying new sustainable energy production and end use technologies, and solutions to expedite widespread adoption. SFI performs experimental and modeling work on technology choices and performance including infrastructure analysis, long term emissions forecasting, electric grid modeling, and policy analysis. 
As new technology options become part of the energy mix and are deployed widely, the long-term costs and benefits of these processes must be clearly understood. Detailed analysis and evaluation of individual energy conversion processes and complex energy systems is critical for the successful development and implementation of optimal energy production and consumption strategies. SFI uses Techno-Economic Analysis (TEA), Life Cycle Assessment (LCA), electric grid modeling, and other techniques to evaluate technologies and pathways.
---
Arun Raju 
Associate Research Engineer, Associate Director-Operations
Dr. Arun Raju is an Associate Research Engineer and serves as the Associate Director-Operations at CE-CERT. Additionally, he is the director of the Sustainable Fuels Initiative (SFI). His research expertise spans various areas within renewable fuels and chemicals production, with a particular emphasis on hydrogen and renewable methane. Dr. Raju is actively involved in research on renewables integration into the electric grid, waste-to-energy through thermochemical conversion, and energy systems analysis.
His comprehensive approach to research involves life cycle assessment, techno-economic evaluation, and optimization of energy conversion pathways. Dr. Raju earned his Ph.D. in Chemical Engineering from UC Riverside, focusing on renewable fuels production and related technologies. Prior to his current role at CE-CERT, he held key positions in the industry, including Director of Research at Viresco Energy, LLC, and later as the Director of Technology Development at Combustion Associates, Inc.
---
Current Research Projects
---
---
Completed Research Projects
---
Dr. Johnson has been working at UC Riverside for over 25 years and is internationally recognized as a leader for emissions from combustion sources, specifically under real world conditions. He is the director, organizer, and host of an annual international conference on in-use testing (10th year in 2020) and has been a guest on two television programs (MythBusters) to represent an expert witness for in-use testing. He has his Ph.D. in Chemical and Environmental Engineering, MS Degree in Electrical Engineering, and a BS Degree in Mechanical Engineering.
Dr. Alfredo Martinez-Morales is the Managing Director of the Southern California Research Initiative for Solar Energy (SC-RISE) and Research Professor at the Bourns College of Engineering Center for Environmental Research and Technology (CE-CERT). Dr. Martinez-Morales received his Ph.D., M.S. and B.S. degrees in electrical engineering from UCR.
His current research includes solar cells, alkali metal-ion batteries, highly integrated renewables, energy storage systems, and microgrids. Dr. Martinez-Morales is a principal investigator in the Sustainable Integrated Grid Initiative (SIGI) at UCR, and has contributed in the engineering, permitting, and deployment of the SIGI smartgrid testbed system and multiple microgrids throughout Southern California.