Overview
This page was originally published in 2019 and has since been updated in July 2022 to highlight the completion of the project. See "Lessons Learned" further below. 
The Volvo Group and project partners strongly believe that achievement of California's air quality goals will require a sustainable freight system with multiple configurations of zero-emission vehicles (ZEV) that are tailored to differing customer needs. In addition to the vehicles, this solution must also include a well-planned network of charging infrastructures (in addition to existing public infrastructures), a network of service and maintenance centers with trained workforce, and provisions for energy efficient (or neutral) freight handling facilities.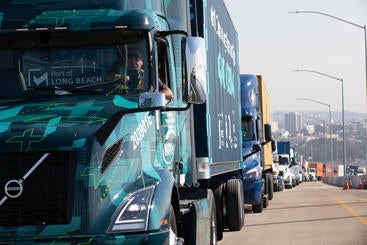 Volvo LIGHTS was a three year $90 million project that began in February 2020. The main purpose of the project was to demonstrate that we can reliably move electric trucks between Los Angeles' two major ports and distribution points while producing less noise and zero emissions.
The overall approach of Volvo LIGHTS was to begin commercial introduction of heavy-duty zero emission vehicles (ZEV) trucks while developing and demonstrating multiple configurations of zero-emission Class 8 electric trucks utilizing a common modular battery-based platform. The project deployed the electric trucks in a variety of customer fleets that operate medium and heavy-duty freight trips in the greater South Coast Air Basin.
The project was led by Volvo Group and South Coast Air Quality Management District (South Coast AQMD), along with partners NFI Industries, Dependable Supply Chain Services, TEC Equipment, Trillium, Greenlots, Port of Long Beach, Port of Los Angeles, Southern California Edison, CALSTART, the University of California, Riverside CE-CERT, Reach Out, Rio Hondo College, and San Bernardino Valley College. 
UCR CE-CERT's effort in this project were focused on vehicle performance evaluation and optimization, both in the laboratory and on the road. The evaluation also included a deeper dive into vehicle lifecycle emissions. In addition, CE-CERT planned to develop novel algorithms for fleet management including dispatching in a constrained charging environment. CE-CERT is excited to be part of this large program that will show electric vehicle technology will make a difference in Southern California.
By leveraging the Volvo Group's global experience and order volumes, The Volvo LIGHTS Project hoped to showcase the commercial viability of Class 8 ZEV trucks and provide the quickest and most cost effectiveness achievement of California's health, air quality and climate change goals.
Lessons Learned
The Volvo LIGHTS project concluded in the Fall of 2022, and has published a guidebook of lessons learned to shine a light on the important factors needed to commercialize the heavy-duty electric truck market. CE-CERT was able to evaluate the performance of the Volvo VNR Electric and show the effectiveness of its energy saving and emission reduction capabilities. To read more about the overall findings, download the guidebook here: https://learn.lightsproject.com/lessons-learned-guidebook