Innovative Vehicle Evaluation Techniques
CE-CERT researchers are using technologies such as connected vehicles, high fidelity traffic simulations, advanced computer modeling, and a suite of advanced plug-in tools to revolutionize the way vehicle performance is evaluated. These new methods are cost-effective, save time, and lessen our environmental footprint by eliminating the need to travel for vehicle testing, and provide researchers with the ability to examine vehicle performance under a wide variety of conditions.
CE-CERT Applies Dynamometer-in-the-Loop (DiL) Testing Technology to Hybrid Electric Bus
CE-CERT is applying its Dynamometer-in-the-Loop (DiL) testing technology to the development of an innovative vehicle-powertrain eco-operation system for natural-gas-fueled plug-in hybrid electric buses, as part of its ARPA-E project. In this testing protocol, data are fed into the system from a high-fidelity traffic simulator, which then sends the desired control signals to the bus as it "drives" on the dynamometer. The DiL protocol eliminates the need for on-road testing and provides more accurate operational scenarios than the typical use of driving cycles.
The system currently being tested incorporates in-traffic vehicle dynamics into the bus powertrain controls to manage combustion engine output, electric motor output and battery state of charge. Preliminary test results from the ARPA-E research has demonstrated up to 25% energy improvements for a specific target corridor.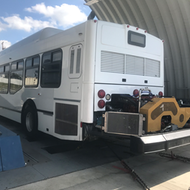 Hybrid electric bus on dynamometer
Comprehensive Modal Emissions Model
(CMEM)
The Comprehensive Modal Emissions Model (CMEM) is an open source research tool that provides a view of traffic emissions at the "microscopic" level. Researchers investigating transportation system design, intelligent transportation systems, emissions from traffic simulation models, and many other areas where more precise localized measurements are essential, use CMEM as a physical model for fuel consumption estimation and pollutant emission prediction.
This type of model is necessary for evaluating the emissions benefits of project-level or corridor-specific transportation control measures (e.g., HOV lanes), intelligent transportation systems (ITS) implementations (e.g., electronic toll collection), and traffic flow improvements such as traffic signal coordination.
Click here for more information.
Mobile Energy/Emissions Telematic System (MEETS) Utilizes Mobile CMEM
For the Mobile Energy/Emissions Telematic System (MEETS), CE-CERT's Comprehensive Modal Emissions Model (CMEM) was adapted to predict continuous emissions in real-time using information from the vehicle's data bus. CMEM is a microscopic emission model that predicts second-by-second fuel consumption and tailpipe emissions using a physical, power-demand approach. In this type of model, the entire fuel consumption and emissions process is broken down into components that correspond to physical phenomena associated with vehicle operation and emissions production. Each component is modeled as an analytical representation consisting of various parameters that are characteristic of the process.
In MEETS, the CMEM model has access to continuous, real-time data reported on the vehicle's data bus and can forgo modeling certain parameters, as depicted in Figure 1. Using key parameters from the vehicle's data bus such as fuel consumption and temperature (coolant temperature or aftertreatment temperature as in the case of SCR equipped J1939 vehicles), CMEM can bypass the engine power demand model, the transmission model and system temperature estimations, in the emission estimation calculations.
In addition to emission modeling, in the MEETS concept, estimated real-time emission data can be recorded on-board or transmitted wirelessly to a processing center where it is collected, as depicted in Figure 2. This data could be aggregated from multiple vehicles to help estimate emissions inventories or to determine network emission hot spots.

To evaluate the system performance (in terms of safety, accessibility and environmental sustainability) of emerging vehicle and transportation technologies (such as connected and automated vehicles), researchers from UC Riverside have been leveraging the state-of-the-art simulation tools and developing associated plug-ins over the years. These tools and plug-ins include microscopic traffic simulators (e.g., VISSIM, PARAMICS, SUMO, and TransModeler), multi-agent based simulators (e.g., BEAM), vehicle simulators (e.g., Autonomie), game engines (e.g., Unity3D), and Safety Surrogate Assessment Model, emissions models (e.g., MOVES, CMEM).
Figure 1 below illustrates the interaction among different modeling tools and plug-ins for the assessment of several Eco-friendly Connected and Automated Vehicle (CAV) applications as examples. As observed from the figure, the behaviors of CAVs in microscopic traffic simulators can be customized through the development of Application Programming Interfaces (APIs). Safety performance such as potential conflicts can be estimated by post-processing the .trj files with SSAM. System mobility (e.g., vehicle-mile-traveled, trip time, and delay) can be gauged either by built-in functions of simulators or user-defined APIs. MOVES and CMEM are coded via APIs to on-line estimate mobile sources emissions and energy consumption. Figure 2 below presents the workflow for the development of MOVES plug-in in the VISSIM environment.

Motor Vehicle Emission Simulator (MOVES)
CE-CERT has been involved in numerous ways with the MOVES model. In 2005-2007, CE-CERT worked with the MOVES modeling team on various aspects of MOVES development including development of light-duty PM emission factors and work on emission factor hole-filling for heavy-duty vehicles. Also, CE-CERT's Comprehensive Mobile Emission Model (CMEM) served as the basis for EPA's Physical Emission Rate Estimator (PERE) model, which was developed to supplement the data driven portion of MOVES and help fill in gaps where necessary.
CE-CERT has relied on the MOVES database as a comprehensive source of unadjusted emission modeling factors in various research efforts. CE-CERT has also created a lookup database of MOVES run results for several combinations of inputs for the Southern California area in order to facilitate using the MOVES modeling results for project level work.
Recently, CE-CERT has been looking at the MOVES binning methodology relative to real-world emission measurements and ECO-ITS applications. These applications are sensitive to nuances of traffic smoothing that may not be captured by the larger bin sizes used in the MOVES modeling methodology. CE-CERT is pursuing methods to improve computationally inexpensive emission modeling for these ECO-ITS applications.