About

Column 1

Column 2

Column 3

Column 4

Research

Research Col1

Research - Column2

Research - Column3

Research - column4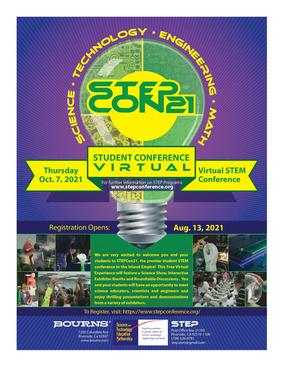 On October 7th, 2021 CE-CERT partnered with Bourns Inc. and the Science and Technology Engineering Partnership to host the 22nd annual STEPCon event – marking the 11th year of CE-CERT's partnership. This year was held as a hybrid event including 315 in-person participants and 10,969 virtual participants, totaling 11,284 students, teachers, exhibitors, and volunteers. Compared with past in-person events that included less than 1,000 students, this new hybrid approach facilitated a significant increase in outreach, allowing the conference to reach a much wider group of K-12 STEM students throughout Southern California.
STEP was established to bridge the skills gap between our K-12 students and high-technology industry needs. STEP produces its flagship science and technology education event every year, the STEP Conference. The first of its kind in the region, this conference serves to ignite the imagination of thousands of students, so that they might pursue promising careers in high-technology fields. It also provides hands-on training to hundreds of K-12 teachers, ensuring they have the latest tools to keep our students competitive in the global marketplace.
This year, CE-CERT added nine new virtual laboratory tours of our Atmospheric Processes and Advanced Materials & Energy Devices Laboratories, in additional to our seven Emission & Fuels Virtual Tours. Additionally, participants had the opportunity to virtually meet five of CE-CERT's student and faculty researchers, who provided attendees with a look at what and why they study what they do. Students also had the opportunity to view CE-CERT's 2020 STEPCon High School Learning Modules in Artificial Intelligence & Security, Clean Air Sensors, Microgrids, and Smart Cities & Transportation.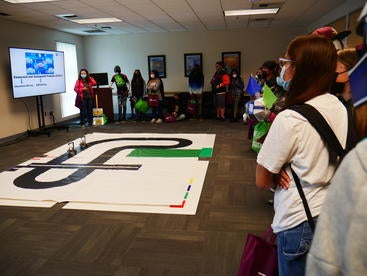 CE-CERT's Transportation Systems Research Group graduate students, Zhauqiao Zhao and Zhensong Wei provided 15-minute in-person demonstrations to nine classes on their Autonomous Vehicle Traffic Challenge (AUTOTRAC) project. This project exhibited their self-built fleets of small-scale connected and automated vehicles (CAVs), to promote the conceptualization and implementation of collaborative behaviors among different agents via automated driving and communications. 
In addition to CE-CERT's participation, UCR had a handful of student organizations participate as exhibitors, such as the UCR Bio Medical Engineering Society and the Unmanned Aerial Systems group.
We would like to thank CE-CERT's generous sponsors, National Center for Sustainable Transportation (NCST), Center for Advancing Research in Transportation Emissions, Energy, and Health (CARTEEH), and Southern California Edison (SCE).