On March 11th & 12th, CE-CERT hosted the Portable Emissions Measurement Systems (PEMS) 10th Annual International Conference virtually, where we welcomed speakers and attendees from all corners of the world. This year's conference gathered leaders and top researchers from industry, government, and academia to discuss the application and significance of PEMS in emissions and fuels research. Of the twenty-one presenters, ten speakers were international, including participants from Japan, Greece, Brazil, UK, Chile, and many more – truly defining the global element of our conference. 
2021 marks PEMS' 10th conference, and although we only came together virtually, it was still a special year to reflect on the work that has been done over the last decade. CE-CERT Director, Matt Barth, stated in his opening remarks, "When this evolved 10 years ago, we knew about PEMS and the importance of PEMS, and here we are 10 years later and we've really seen an expanded growth. Not only in portable emissions measurements but also portable active measurements. The critical part of all of this is data and how data can help inform the science in terms of the regulatory processes and much more."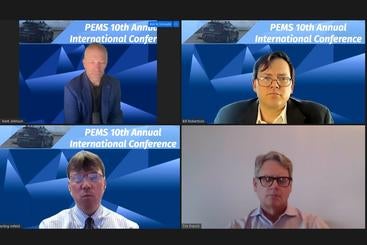 This year's theme, From the Laboratory to the Real World: Understanding Community Impacts, was prominent across the PEMS speakers' presentations. On day one, attendees learned about a range of on-board measurements and their impacts on health and the environment. Keynote speaker, Sterling Imfeld, Director of the National Vehicle and Fuel Emissions Laboratory at EPA gave an informative presentation on the marriage of laboratory and real-world testing and how it yields more data, in addition to discussing the pressing need for cleaner air in communities. The day one presenters not only discussed a variety of tailpipe emissions but also the air quality of car cabins and how the duty cycle impacts human health. The panel that included CE-CERT, CARB, EPA, and TEM examined the difficulties involved in making measurements as well as the struggles with – and solutions for – making vehicle-attached sensors that can report more accurately. As Kent Johnson, conference creator and coordinator of the PEMS conference and its evolution, offers "one of the unique things about the PEMS conference is the portable emissions measurement systems – the idea grew out of the laboratory, not necessarily representing what happens in the real world. The CRC conference tends to show the results of making measurements. This conference, is really about how we make those measurements and how they are represented." 
Day two of the PEMS Conference focused on particle numbers, how researchers measure those numbers, and why such measurements are significant. Johnson states, "There are a lot of things we're still learning, and again, it's really tied to connecting measurement to what the policy should be. Not all measurements are correct so we have to be discerning. And that's where this conference really grew out of and it's why we've been continuing it." 
The overall message from this year's conference is that continued collaboration will be central to the future of PEMS innovations. The hope is that the PEMS conference will contribute to pushing those communal ideas to the forefront.  
For more information on this year's conference, please visit www.cert.ucr.edu/pems.