Life-long energy innovation leader Neal Richter's legacy will live on through the G. Neal Richter Energy Innovation Scholarship. The scholarship established at the College of Engineering Center for Environmental Research and Technology (CE-CERT) at UC Riverside will provide financial assistance to undergraduate or graduate students studying alternative energies at CE-CERT.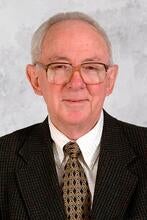 Dr. Richter spent his life dedicated to environmental work. In 1957 he received his Ph.D. from the California Institute of Technology and began working at a Texaco (now Chevron) pilot plant facility in South El Monte, California. Texaco had built its business based on selling the gasification process. Throughout his career, Dr. Richter engaged in all aspects of the facility's work– improvements at the pilot plant stage, expanding feedstocks used from natural gas and oil to coal, biomass, used tires, and the operation of those plants and support of the licensing in the process. Dr. Richter was most concerned with environmental impact.
In retirement, he continued to have an impact on the energy industry, both as a Chevron Fellow Emeritus and in the research program of the late Joe Norbeck, founding director of CE-CERT, and former director of the UCR Environmental Research Institute. As a member of Norbeck's research group, Dr. Richter participated in classroom meetings, mentored students, and offered valuable historical perspectives in the field. His dedication to his work went beyond the research. He strongly believed in providing a philanthropic base to support students who wanted to make a difference.
Before his passing in 2016, Dr. Richter initiated an endowed scholarship to support students studying energy innovation. The fund was a reflection of his values and was established to further advance the academic quality, excellence and benefits of energy research.
 "I would like to see gasification be successful, and this is one way to help people and help students," said Dr. Richter.
With the generous support of Neal's family and members of the college community, the initiative that Dr. Richter began has reached its goal to become a full endowment. Next year the college will begin the selection process for the first student recipient. Dr. Richter dedicated nearly 50 years of his life to energy innovation and traveled the world as an expert in the field. Through this scholarship, the work that Dr. Richter started will continue to grow.
"It was an honor to work with Neal Richter during his time at UCR," said CE-CERT Director Matt Barth. "He brought intangible knowledge to our program and I'm thrilled his legacy will continue through this scholarship."