Riverside, Ca –
The 2019-2020 academic year introduces the J. Wayne Miller and Thomas Durbin Graduate Research Award, a $1,000 scholarship made possible by donors Dr. Jiacheng Yang and Dr. Sam Tanfeng Cao, both CE-CERT alumni.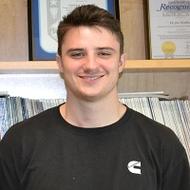 The inaugural recipient of this award is Cavan McCaffery, a second year Ph.D. student studying Mechanical Engineering and working closely with the Emissions and Fuels group at CE-CERT. Cavan's research focuses on generating data on how different renewable fuel sources and after treatment systems affect the overall emissions provided by different mobile sources in real world situations. His future research goals are to make a substantial contribution to the body of work on mobile source emissions and to provide valuable data that can be used by regulatory industries.
When asked about the intentions behind the donation, Dr. Yang stated, "Sam and I established this scholarship to show our gratitude towards the UCR CE-CERT Emissions and Fuels Research (EFR) group faculty advisors: J. Wayne Miller, Thomas Durbin, Kent Johnson, Georgios Karavalakis, and David Cocker, who have mentored many chemical and environmental engineers over the years. This award is named after the two senior advisors from the EFR group, Dr. J. Wayne Miller and Dr. Thomas Durbin. Through this award, Sam and I recognize and celebrate the faculty mentorship, dedication and hard work which helped to launch our successful careers. The goal of this scholarship is to provide inspiration and to encourage perseverance, hard work and commitment in future graduate students, just as our advisors did for us during our university research experiences."
Dr. Yang added that he felt Cavan's recognition was a noteworthy start to the award, stating that he knew Cavan well and felt that his work embodied the spirit of this award. Dr. Yang and Dr. Cao have committed to funding the award over the next five years, and invite other CE-CERT alumni to contribute as well.
Dr. Yang and Dr. Cao are both pursuing careers at the in the air quality industry. Dr. Yang graduated from UC Riverside in 2018 with a Ph.D. in Chemical and Environmental Engineering, after which he accepted a position as an Air Resources Engineer at the California Air Resources Board. Dr. Cao is currently serving as an Air Quality Specialist at the South Coast Air Quality Management District (SCAQMD). He received his Ph.D. in Chemical and Environmental Engineering from UC Riverside in 2014, after which he spent over four years as an Emissions Technical Specialist at Cummins, Inc. in Columbus, Indiana before returning to California to join the SCAQMD.