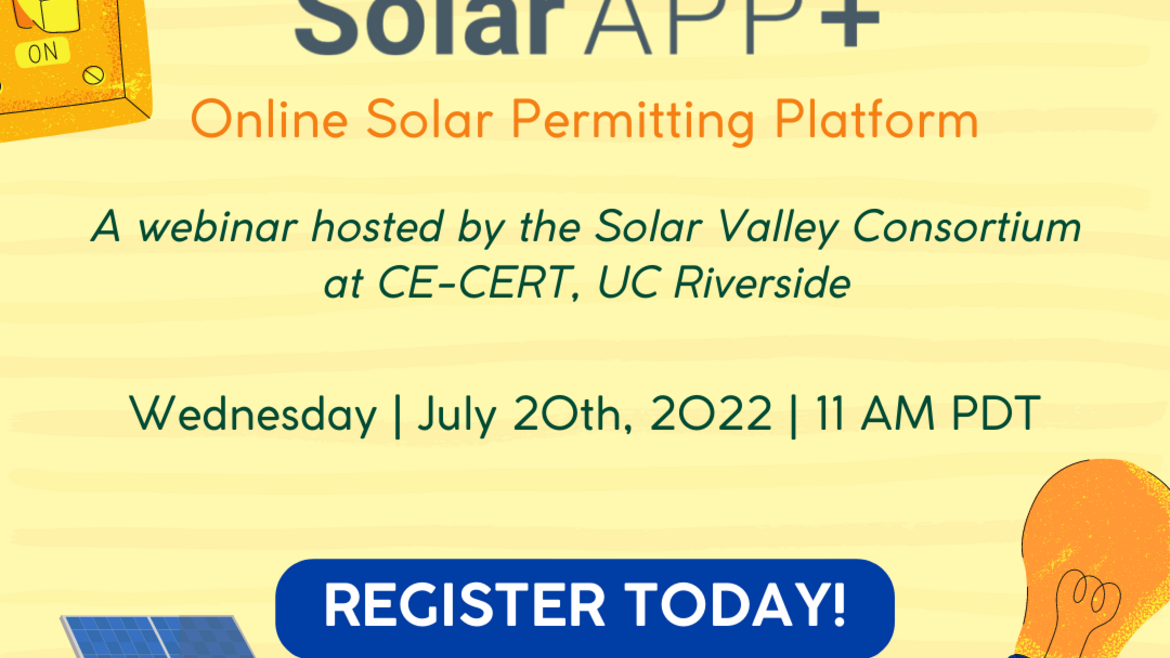 -
Please register for the webinar here: https://bit.ly/3nS6YID
Solar APP+ - Online Solar Permitting Platform
A webinar hosted by the Solar Valley Consortium, UC Riverside CE-CERT
Wednesday| July 20th, 2022| 11:00 AM PDT
About
SolarAPP+ is an online platform that instantly issues permits for code-compliant residential PV systems, saving time for local governments and installers. It was developed in collaboration with local governments, code development organizations, and industry stakeholders.
"The permitting process was taking four weeks. Now, with SolarAPP+, we give a permit the same day."
—Regina Romero, Mayor of Tucson, AZ
A recent study showed that projects permitted through SolarAPP+ were installed and inspected 12 days faster than projects using a traditional permitting process.
To learn how SolarAPP+ can save your community time and money, attend a webinar designed for legislators and elected officials, City Managers, Planning Departments, Public Works Departments, and all those interested in speeding the permitting of rooftop solar. This webinar is open to all who are interested, at no cost.
Presenters
Emily Fekete, National Renewable Energy Laboratory (NREL)
Steve Jones, Underwriters Laboratories
Agenda
Introduction to SolarAPP+
How it works—see a real-time SolarAPP+ demonstration!
Results so far—data from the recently published SolarAPP+ 2021 Progress Report
Q&A
Next Steps
Target Audience
General Public
Registration Required
Yes