Webinar: The New Federal Energy Policy. What should it look like for Southern California?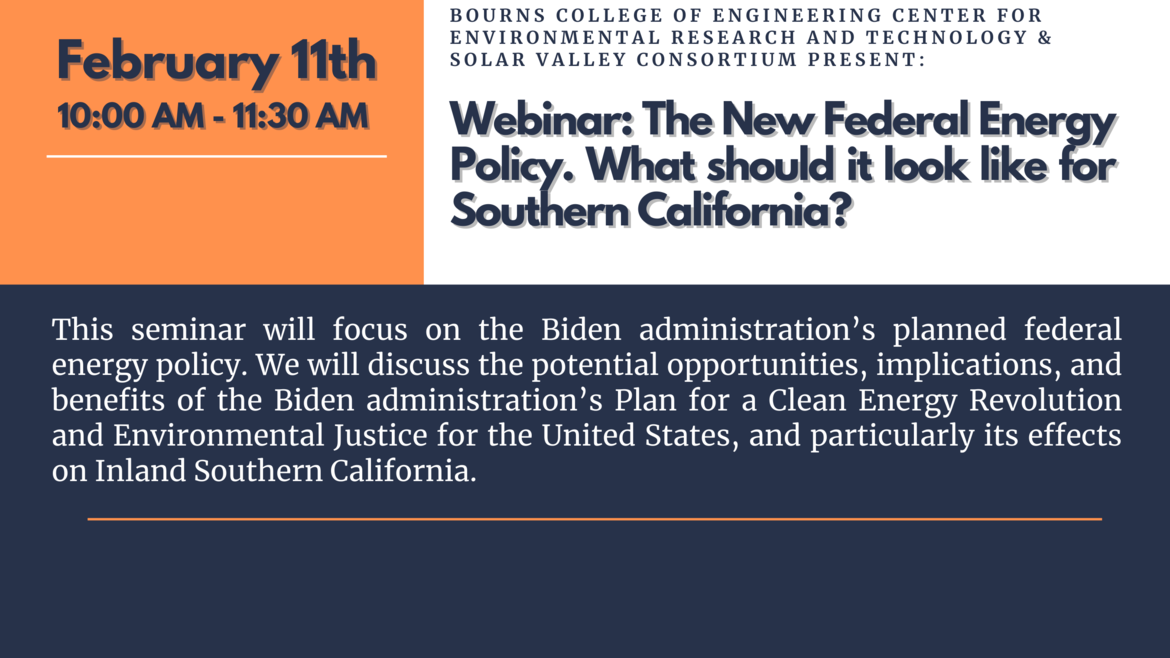 -
Virtual
This seminar will focus on the Biden administration's planned federal energy policy. We will discuss the potential opportunities, implications, and benefits of the Biden administration's Plan for a Clean Energy Revolution and Environmental Justice for the United States, and particularly its effects on Inland Southern California. Brought to you by Bourns College of Engineering Center for Environmental Research and Technology and Solar Valley Consortium.
Featured Speakers: 
Jaime Alonso, Executive Director at Inland Empire GRID Alternatives 
Jaime is the Executive Director for GRID Alternatives, Inland Empire. His focus is to lead an organization devoted to positively transforming the lives of residents and communities by providing access to clean, renewable solar energy to low-income families and hands-on job training to help workers enter the solar industry.
-
Bernadette Del Chiaro, Executive Director at California Solar & Storage Association (CALSSA). 
Bernadette is the Executive Director at the California Solar & Storage Association (CALSSA), where she has served for more than 7 years. She has also worked as director of Clean Energy & Global Warming programs at Environment California.
-
Stephen Lassiter, Public Policy Manager at Sunrun
Stephen manages political relations on behalf of Sunrun, lobbying for solar energy programs, and tax and trade regulations before Congress. He also tracks the business of solar regulations, and has worked to develop large-scale programs under New York's Governor Cuomo.
-    
Registration Required
Yes