CE-CERT Graduate Student awarded 2013-2014 POC Award
---
CE-CERT Graduate Student awarded 2013-2014 POC Award
October 5, 2013
For More Information
Kathy Vang
Institute Administrative Coordinator
Work

(951) 781-5791
kathyv@cert.ucr.edu
4th year UCR CE-CERT graduate student Charles Cai's (advised by Prof. Charles E. Wyman, Dr. Rajeev Kumar and Dr. Taiying Zhang) proposal was selected as one of this year's POC 2013-2014 recipients, titled: "Co-Solvent to Promote Biofuel Precursor Production from Biomass". The Office of the Vice Chancellor for Research and Economic Development announced the FY2013-2014 Proof of Concept for Technology Commercialization (POC) Award Program. The POC award provides UCR investigators up to $35,000 to further develop a commercializable invention based upon UCR intellectual property not yet licensed. The effort addresses a critical issue, such as creating a prototype, scaling up a process, or obtaining additional data to support a commercialization effort by making the invention more attractive to licensees or investors.
Charles' proposal was based on critical research results obtained at CE-CERT in Prof. Charles Wyman's Aqueous Biomass Processing lab that led to the invention of a novel co-solvent process for producing fuel precursors from lignocellulosic biomass at high yields. More information about this research can be found at Green Chemistry Journal, title: "THF co-solvent enhances hydrocarbon fuel precursor yields from lignocellulosic biomass".
THF co-solvent enhances hydrocarbon fuel precursor yields from lignocellulosic biomass
30 Sep 2013
By Emma Eley, Development Editor.
Charles Wyman and colleagues have demonstrated a highly effective lignocellulosic bio-refinery model, producing unrivalled quantities of furfural, 5-hydroxymethylfurfural (HMF), and levulinic acid as products. Proposed as a basis for the production of renewable fuels, the furan derivatives generated by this process are also a promising platform onto many other intriguing bio-based molecules. Additionally, more than 90% of the lignin contained within the maple wood feedstock was reclaimed, making the process as a whole exceptionally appealing.
Instead of the typical acidified aqueous media often used, the hydrolysis of the lignocellulose feedstock (and subsequent sugar dehydration) was enhanced with the addition of the potentially renewable solvent tetrahydrofuran. The organic solvent increased yields of HMF by an order of magnitude over what could be obtained otherwise in a one-pot reaction conducted at 170 °C. Under these optimised conditions, 87% of the total pentose (C5) sugar content was accountable in the form of furfural, while the hexose (C6) sugar content was converted from cellulose into HMF (in up to yields of 21% of the theoretical maximum), levulinic acid (up to 40%), and free sugars. The authors believe this represents a key step towards achieving commercial viability for sustainable, sugar derived bio-fuels.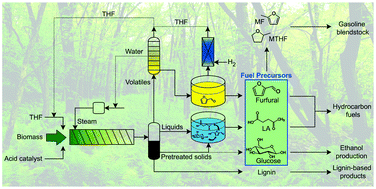 THF co-solvent enhances hydrocarbon fuel precursor yields from lignocellulosic biomass, Charles M. Cai, Taiying Zhang, Rajeev Kumar and Charles E. Wyman, Green Chem., 2013, DOI: 10.1039/c3gc41214h